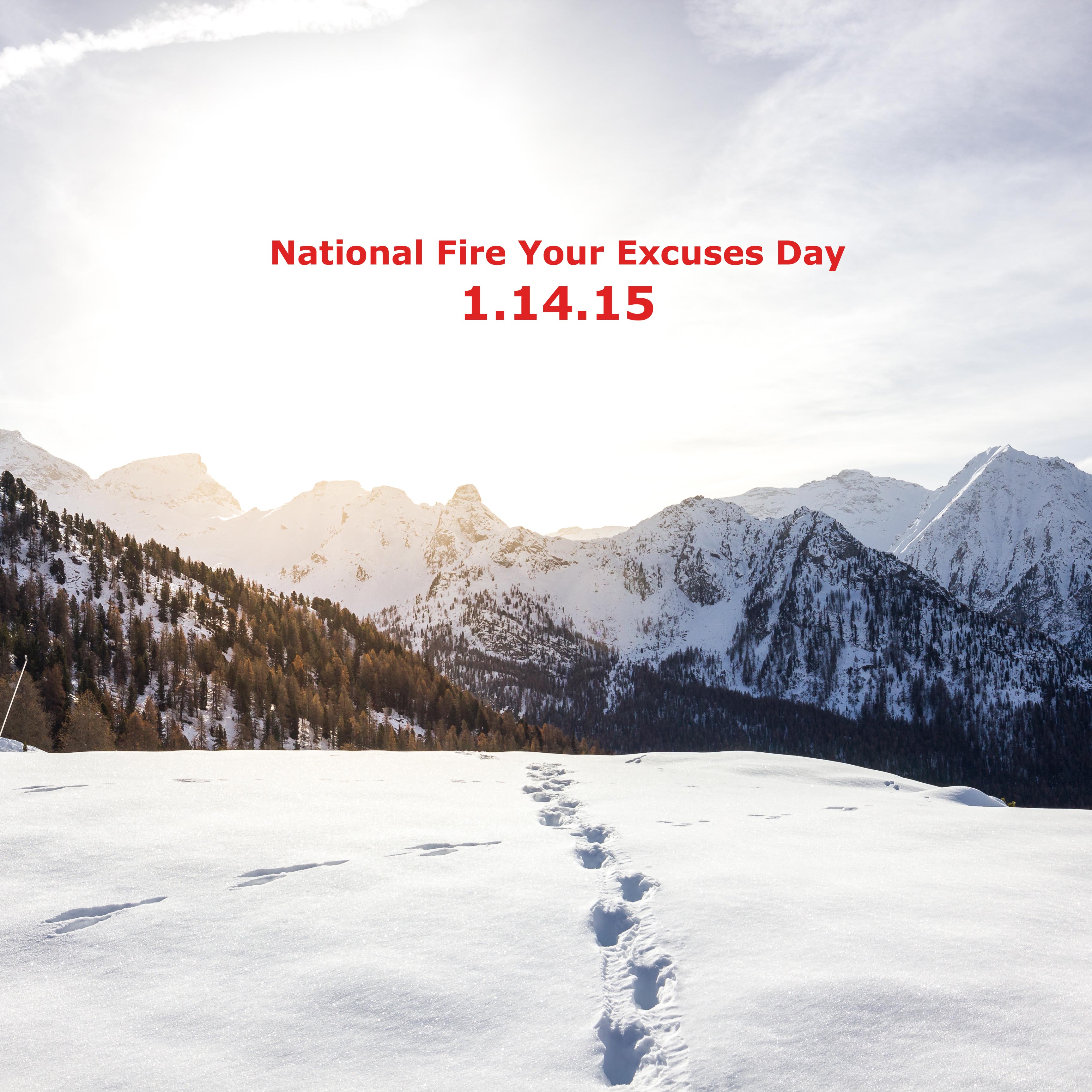 This Wednesday we pause again to celebrate National Fire Your Excuses Day!
Each January 14th we observe "A Day Without Excuses." This day, two weeks from the start of the new year, is when we invite all to review their yearly goals and to set in motion their actions to make the year extraordinary.
How to celebrate National Fire Your Excuses Day with your family, colleagues or friends

Honor your resolve to live excuse-free in 2015 by taking one or more of the actions below this Tuesday:
1. Plan…set your written 2015 goals- you do have them, right? If not, take a day to complete them.  This is your first critical step. Then, share your goals with at least two people who will hold you accountable throughout the year. By the way, research shows that pure "will power' lasts, on average, just 90 days before fading and the individual goes back to his or her "normal habits." Don't let this be you (again.)
2. Connect…join one group that will help you succeed. John F. Kennedy said: "A rising tide raises all boats."  Put your boat into the ocean by joining with others. The oft-quoted statistic–"It takes 21 days to form a new habit" is wrong.  The average time is 66 days and in many cases far longer. So, you will need some help along the way. Give yourself the best chance you can for finally achieving that big goal this year by focusing your attention on reaching out early to enlist partners.
3. Move…Consider adopting the household rule: "No electronics before exercise."  if there is time for after-hours, recreational electronic use–streaming video, gaming, Facebook, etc., there is time for exercise.  No excuses this year.
4. Learn…what skills are separating you from your dream?  If you know you are unlikely to master them yourself-be brutally honest about this, who can you get on your team? And, who can you seek out for expert help?
5. Serve…All of us have more to offer than we believe we do, at times.  Make one of your core goals to help someone EVERY week in a hands-on way in 2015. Which relative, friend, organization or cause needs your support? Fire Your Excuses!  If you are  already a giver by nature, spend 2015 learning how to LEVERAGE your impact.  How could you take your serving impact to another whole level in 2015?
Key Principles to Remember This Year:
Refuse to minimize your use of excuses: Remember "Not all excuses are the same, some hinder us, some hurt us, and some kill us." At the very least, excuses rob us of our dreams, impact and purpose.  We can't count the number of extremely intelligent and influential people we meet each year who are shortening their lives with their health habits.
"Don't try harder in 2015, get more connected!" Do you have important goals that have eluded you for years? It's time to admit that while willpower is needed, but it is not enough.  Don't just do what you always have done or beat yourself up for not being more disciplined.  Get help!
Finally, what we have observed in our combined 60 years of working with individuals to achieve permanent change is this: "Everything changes when we walk the last mile of denial." What is your "last mile?" If you are willing to do 90% of what is needed to change but are holding out on that 10%, in many cases, that small area will be enough to keep you from ever changing permanently.  So ask yourself:  What two or three actions have I been unwilling to take until now? It will make all the difference.
Want to turbo-charge your progress in 2015?
1. Receive our enewsletter.  You can sign up right here on our site on the right.  As your free gift you'll receive Fire Your Excuses "Career" Chapter, and excuse-busting tips throughout 2015.
2.  Join our Fire Your Excuses Facebook Fan Page community and read the stories of others who have been changing their lives permanently.
3. Pick up a hard copy or ebook version of Fire Your Excuses. "Your blueprint for permanent change for the cost of a movie!"
4. Take the free Fire Your Excuses Self-Assessment and see how your excuse profile compares with others across the nation and the world.
5. Consider a coaching session or program to help you stay on track throughout 2015. Click here for more details.